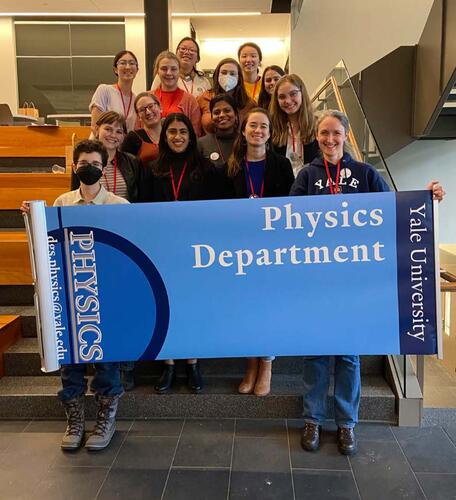 On the weekend of January 20-22, 2023 the American Physical Society held the Conference for Undergraduate Women in Physics at various locations around the country. Women from Yale attended the Brown University location. Representatives from  the physics graduate student organization headed by Sarah Demers, professor of physics visited the Brown University and Boston University locations in order to meet prospective graduate students and to tell them about our Ph.D. program.
From Sarah, "We had an excellent time at CUWiP! I botched the dates, so ended up going by myself to Boston University on Saturday afternoon.  It was great to see Melissa Franklin and Ed Kearns there, and I had conversations with many potential future Yale students.
A group of us went to Brown on Sunday. The contingent was myself, 5th year grad student Hanna Bossi, and 2nd year students Joy Pajarla and Mengwen Shi. With Hannah able to talk about nuclear physics and Joy and Mengwen able to talk about biophysics, we did a good job covering the different programs. (We did our best with the astro and quantum information questions!) In addition to questions about our graduate program we had lots of questions about quantum information research and questions about our summer programs. It was, as always, energizing to be at a CUWiP!
We took a selfie at the table, as well as a photo with Yale undergraduates who were attending the Brown Conference. In addition, Reilly Ratcliffe -  a  student on the organizing team from Brown -  sent along some pictures of our table in action. All photos are available on our flickr album.
HUGE thanks to Hannah, Joy, and Mengwen for embarking on this road trip on behalf of the department and representing our graduate program so well."
From the APS CUWiP website, "The goal of APS CUWiP is to help undergraduate women continue in physics by providing them with the opportunity to experience a professional conference, information about graduate school and professions in physics, and access to other women in physics of all ages with whom they can share experiences, advice, and ideas. The national and local organizing committees of APS CUWiP strive to create a welcoming environment for all, including undergraduate women and gender minorities."
See below for links to the APS CUWiP website.